Learning Management System is a unique software that has become the largest part of the education system. It is a unique software that deals with the administration, documentation, reporting, tracking, and delivery of various educational courses, and training along with various educational, learning, and development programs.

It is also possible to get custom learning management software which is developed by various LMS development companies that have a team of professionals who are highly skilled and talented enough to cater to the needs and demands of the clients. One such amazing company which has been working for providing the best services to clients all over is Yatharthriti.
Those who are interested to get professional and custom services for their institute and organization can easily get in touch.

Today, there is hardly any institute, whether private or government, which are not making use of LMS software.

This software has drastically reduced the workload and has increased the productivity and performance of the organization.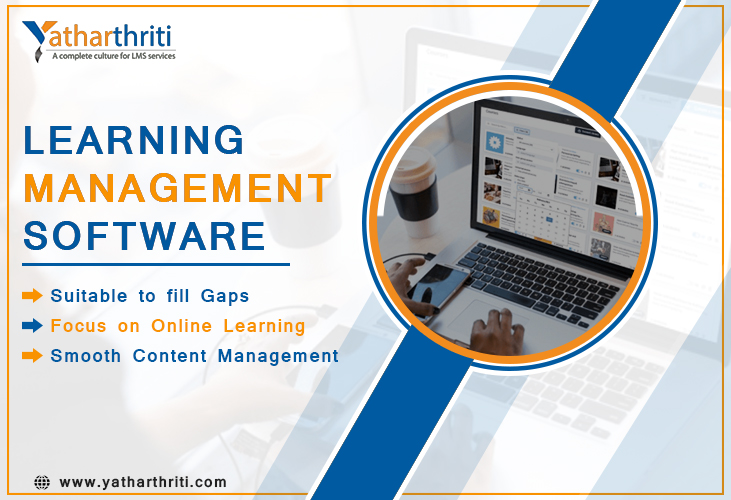 The various advantages of LMS have been mentioned below-

Suitable to fill Gaps

Learning Management system features have been developed to fill in the gaps that are found in various learning, educational, and training programs. The system makes use of analytics and reporting that are quite effective and put emphasis on massive learning and growth.

Focus on Online Learning

Though LMS has been developed for the purpose of online learning, one can find many other uses of the same. With the development of this software, there has been no looking back in the learning and training sector.

Smooth Content Management

Learning Management System features allows one to manage huge data, content, and learning material. There is no dearth of learning material and it is also possible to add various content and notes which can easily be used whenever required. Moreover, the learning material can be easily downloaded and used later. Learning Management System can be used to create structured learning course material along with texts, tables, PDFs, text formatting, and tables.
It is also possible to create different users like students, teachers, trainers, visitors, and more. This arrangement makes sure that students have access to the content for which they are eligible like learning material, tracking the learning progress, and even contacting the students through contact tools. While on the other hand, teachers can keep a record of students, design modules, and more.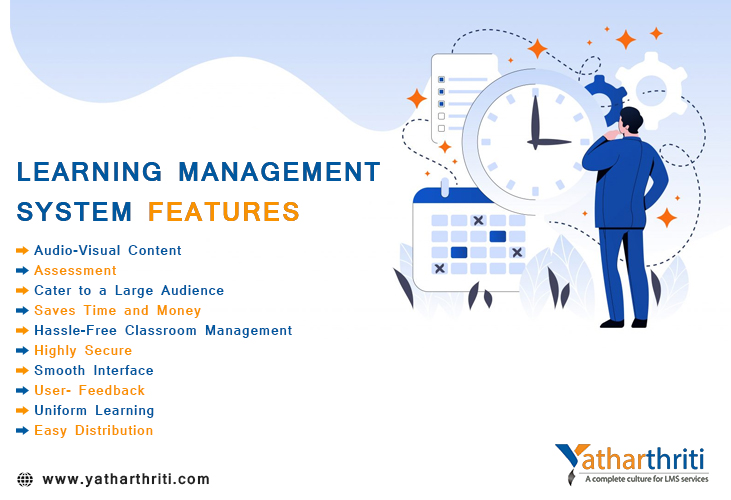 To make learning all more interesting and engaging, one can make use of various audio-visual aids which make learning more interesting and engaging. To make learning all more fun and interesting various kinds of gamification factors are also added.
It is possible to get the assessment and find out the level and performance of the students. There are various tools available that can be used to analyze the development of employees and students alike. There are various kinds of assessments available that include one-liner, multiple choice questions, fill-in-the-blanks, matching, essay, and true and false to mention a few.
Cater to a Large Audience
Well, the best part about the LMS system is that it can be used to train, teach and educate a large number of people at a given point in time. There is no need to conduct training in various locations as with the online option, all one needs to do is register online.
As it is no more required to conduct various seminars, conferences, and training programs at various locations nationwide the overall cost and time have been largely saved. All one has to do is register online and all the training and learning can be easily done via LMS. And after successful completion of the training program, suitable assessment can also be taken to find out how much has been understood by the trainees and why are gaps that need to be addressed.
Hassle-Free Classroom Management
It is possible to easily manage the classroom as all the necessary tools required for taking attendance, and managing students' information can be easily done. All the necessary information can be obtained by the mere click of a button. One can easily search the student by name, class, and roll number.
Since most of the time important and crucial information is also saved on LMS, hence security has been given due importance, and only authorized personnel with passwords are given access to the interface. Thus, it is an ideal platform to be used in various organizations and educational institutes for the benefit of one and all.
The user- interface of the LMS is so developed that it can be opened on any device, be it a tablet, mobile, or laptop. The system is so designed that it easily fits into any device and works smoothly. The smooth interface makes sure that anyone is able to move around and use it without getting confused.
For effective and proper learning, getting the proper feedback from the employees and students is most important, and LMS comprises various discussion forums where students can discuss and share their knowledge with students and teachers. It not only adds value but also makes the teacher aware of the content which needs improvements and should be added or removed.
As with LMS, students get access to the same content and learning material which makes sure that the learning process is the same for one and all. This makes it easy for the teacher to conduct an evaluation and report on the performance of the students and find out their weaknesses.
It is easy to distribute course content as all you need to do is send a mail and invite the users on LMS for doing the homework and other assessments.
One might think that LMS is expensive, but considering the amount of value it adds to an organization or institute, it is priceless. Due to high demand among the institutes and organizations, one can now find numerous commercial support which is provided by LMS software developers.