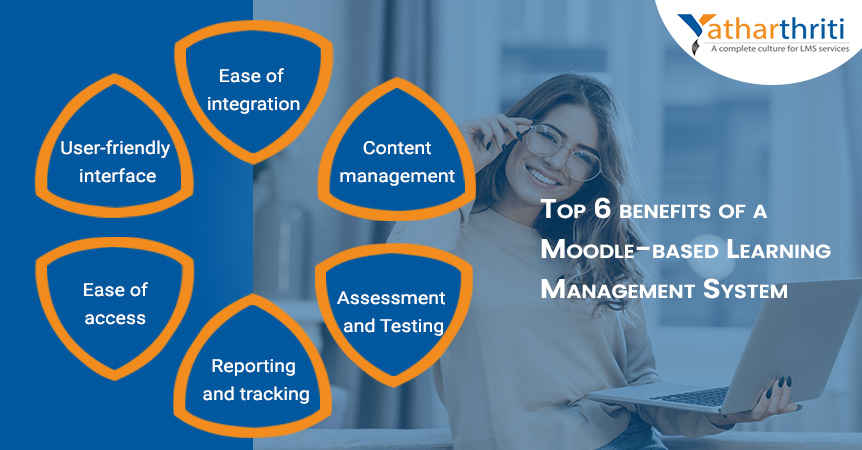 Learning Management System is one of the quintessential tools of eLearning, upon which all the online courses and training modules are built. LMSs now have changed into refined cloud-based software with a wide range of features and functionalities.
An increasing number of teachers and industry experts are now leveraging LMS to create, manage and deliver content while monitoring and assessing the learner's performance. Moodle is one of the best platforms that offer a unique and flexible approach to teaching. Moodle-based LMS ensuressmooth interaction between educators and students.
Why do you need a Moodle-based learning management system?
User-friendly interface:
It is very important for the system to have a user-friendly interface with a self-descriptive navigation feature, and with a Moodle-based learning management system, you can achieve it. It is easy to use, which means you have to invest minimum time in training to acquaint your employees to use it efficiently.
Ease of integration:
LMS open source Development Helps in creating a platform that is easy to integrate with different business functions within the enterprise, such as human resources, compliance, talent acquisition, and more.
Content management:
Moodle development supports all the latest eLearning standards. In addition, it also enables you to upload existing documents and videos, and also share materials and events between the courses.
Ease of access
With a Moodle-based LMS, you can get a responsive design, which means that the content can easily get adjusted to different screen sizes. As more people use their smartphones while on the move, it is advantageous to ensure that there is support for mobile learning and that the content is interactive and delivered in short segments.
Assessment and Testing
: It can support pre-tests and well post-tests as part of the learning process. As there are many flexible testing and assessment features available, it becomes a lot easy for everyone to use it.
Reporting and tracking:
Besides assessment and testing, a Moodle-based system is embedded with features to track and record the learner's progress through a well-defined learning path. It can help in analyzing exam performance and record which learners have completed a particular learning assignment, and which ones have not.
We are one of the LMS open source Development offers Moodle-based learning management systems for all types and sizes of organizations. Contact Yatharthriti for a built-in PHP platform, as a Moodle-based LMS is quite flexible and can be tailored to deliver apleasing experience. You can trust Yatharthriti for all the custom LMS development on Moodle.