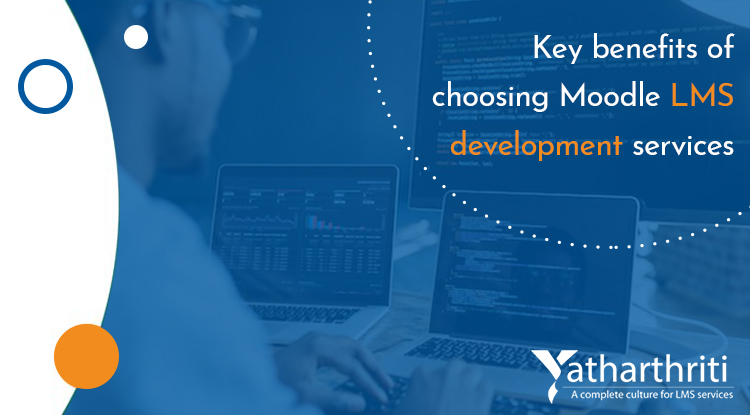 Learning Management System (LMS), is a software used to train learners online. It is a cloud-based system allowing learners to authenticate themselves, and register for the course along with taking assessments to review the learning outcomes. Today, more and more organizations and educational institutions are choosing LMS to supplement their learning and training requirements.
One can choose the right and custom LMS development services based on their company's training requirements. There are a few points to consider when it comes to choosing the best Moodle LMS development services from a reputed company like determining your goals, assessing your current L&D strategy, features and functionalities you need in your LMS, experience, and background of the LMS development company, support services offered, and more.
Moodle LMS
Different types of LMS are available which one may choose, and the most popular LMS is Moodle-based. It is an open-source, and flexible user-friendly e-learning platform used worldwide by all types of organizations across the globe.The Moodle-based LMS is ideal for:
On-board training
Compliance training
Online course development
Recruitment and interview process
Competency-based training and management
Product or service launches
Workplace safety training
Advantages of choosing Moodle LMS for online training
There are many significant advantages of choosing Moodle LMS for e-learning. Let's take a look at these benefits of Moodle that make it the most popular option:
Open-source: It is open-source platform which means that its source code is available to all. In simple terms, it means that users and administrators can freely run and customize it to meet their particular business requirements.
User-friendly interface: Moodle LMS is a user-friendly interface with various self-descriptive navigation features. It's based on HTML5 and designed to be responsive which means users can access it easily on their mobile device.
More than 500 plugins: Another reason for choosing Moodle LMS is the fact that is feature-rich, highly flexible, and configurable with more than 500 plugins. It allows you to perform several tasks as per your learning and training needs and further making it engaging, collaborative, and fun. Theme is another plugin in Moodle LMS and to add this, one can choose to customize theme development company India to make the learning fun.
Ease of integration: Moodle-based LMS is very easy to integrate with your various business functions like talent management, human resource management, compliance, workflow management, payment processing, CRM, and more. Additionally, it also has features that enable sharing of data across different geographical locations.
If you are looking for the eLearning management system for your institute or organization for the above benefits, consider Yatharthriti best Moodle LMS development services with customizable features, and support benefits.